To update the shipping or billing address on your Rudy Project account log in and select the "View Addresses" button under the Account Details section.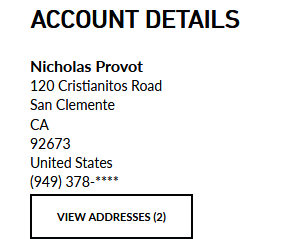 Here you will see all of your saved addresses and you can edit or delete your addresses as needed.

For the further assistance, use the Help feature found at the bottom of your browser window to send us a message or call our Customer Service line at the number below.
To speak to a Customer Service Representative Call: (888) 860-7597

Customer Service Telephone Hours:

Monday - Friday 8:00am - 4:00pm (Pacific Time)


Customer Service Chat Hours:

Monday - Friday 8:30am - 3:45pm (Pacific Time)
Closed Saturday and Sunday